Product Stream & News
Welcome to the news stream.
NEW PRODUCT :: Liquid.cool CFX 1000ml and 150ml Opaque Performan
Just in, ready for the Bank Holiday!


Liquid.cool

ColourFX is a fully pre-mixed, ready to use high performance coolant, produced from a blend of Ultra-Pure Water, Non Toxic Ethylene Glycol and vivid none stain water dyes which are stable for long lasting colour concentration that does not separate over time or break away in you loop.

CFX is designed to be a performance heat carrier by using the latest in thermal heat transfer technologies. CFX does not clog your system with powder particles thanks to our unique 100% miscible opaque liquid base.

Features:

• 100% Pre-Mix liquid coolant ready to use right out of the bottle.

• Synergistic corrosion inhibitors to protect metals such as Copper, Nickel, Brass, Steel and Aluminium tested to BS5117, BS6580 and ASTM D1384 standards. Also contains anti-growth and scale inhibitors.

• Long lasting, none stain water dyes to produce awesome colours to contrast with other accent parts in your rig.

• High Efficiency, Non Toxic Ethanediol mix for increased cooling performance, with a non-pungent aroma.

• Electrical Conductivity less than 10µS/cm (20°C)

• 3 Years Shelf Life, when stored in its original sealed container (induction seal not broken) out of direct sunlight.

• Designed to not separate or clog your system with particles thanks to our CFX 100% miscible opaque liquid base.

Comes in a choice of 10 Awesome Colours!

CFX 150ml from £9.75 Inc VAT

CFX 1000ml from £12.96 Inc VAT

COMPATIBILITY NOTICE :: Intel® Socket H4 (LGA-1151) Kaby Lake
Notice Date: 06/01/2017

While helping customers, recently we've had a few emails in relation to the new Kaby Lake socket and it's compatibility.

It's time to shed some light on the new CPU Socket.

We can confirm that the new Intel® Socket H4 (LGA-1151) CPU Socket supports the same Waterblocks as any normal Socket 115x (LGA-1150,1151,1152,1155,1156) Motherboard. The hole spacing is the same as the original 115x, therefore all products on our website which show compatibility with the original 115x socket will fully support the latest generation Intel® Socket H4 (LGA-1151)
NEW PRODUCT :: WCUK Spec Pre Watercooled Graphics Cards
Our In house WCUK Spec team have been working hard with card suppliers over the last year to get the deal we wanted for our customers, to be able to offer them a fully Pre Watercooled card with one of our high end full cover Waterblocks fitted from brands such as EK, XSPC, Phanteks and Bitspower.

All our WCUK Spec Watercooled cards come with the full Manufacturers warranty. Limited to Nvidia cards only for now, with this superb service you simply cannot go wrong.

If you're not sure what you're doing, don't trust yourself to do it right and fear for your new £700 cards or you simple don't want to do it, then hand let us watercool it for you!

The small but growing range is listed below:

- EVGA GeForce GTX 1070 FE Edition with Phanteks 1070/1080 - Acrylic, RGB, Black
£587.99 Inc VAT

- ASUS GeForce GTX 1080 STRIX with EKWB Plexi+Nickel
£803.99 Inc VAT

- ASUS GeForce GTX 1080 STRIX with EKWB Acetal+Nickel
£803.99 Inc VAT
ANNOUNCEMENT :: WCUK >> Hardware Labs™ Official Distributor
Here at WCUK we're pleased to announce that Hardware Labs™ have approached us to become the new Exclusive UK, and EU distributor for their entire range including the world renowned Black Ice® and SR2™ Radiator range. As many people will know there hasn't been supply in the channel for some time now, despite demand being ever stronger from end users.

First stocks will be landing towards the start of October, including the all new Black Ice® SR2 MP Radiator in Black Carbon or Special Edition Satin White. Along with the industry leading Black Ice® Nemesis GTS® and GTX®.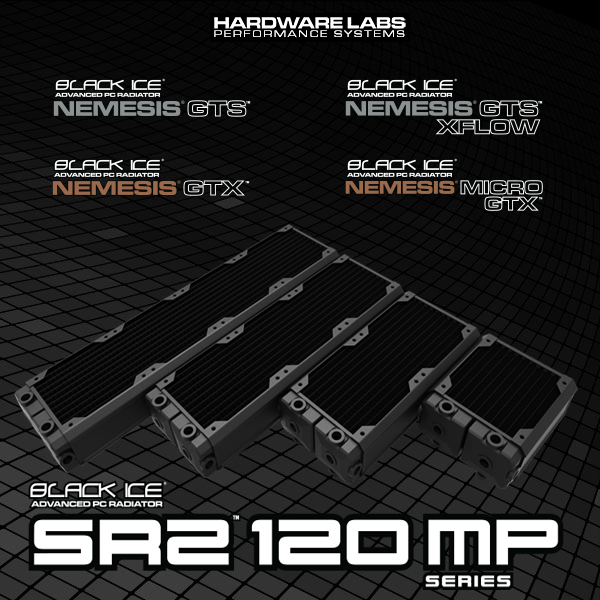 About Hardware Labs™
Hardware Labs Performance Systems, Inc., is a pioneer in the computer watercooling industry. HWLabs was the first company to develop and manufacture the first radiators specifically designed for PC watercooling and is still the de facto benchmark in the business.
Our core philosophy remains to be the relentless pursuit of performance in the heat exchange industry, pushing the limits of design and engineering to provide our fellow enthusiasts and the industry with class-leading products and services.
Hardware Labs has maintained a no compromise approach on performance and quality whether our heat exchangers are for PC enthusiasts, industrial, medical, military, or OEM customers.
The new Black Ice® NEMESIS® series continues this spirit of excellence, innovation and tradition of unconventional thinking. After all, our customers can expect no less from the industry's finest.
CRITICALLY ACCLAIMED!
"The Black Ice NEMESIS rads scale great with airflow while the XSPC RX V3 does not- goes to show that liquid and air flow restrictions don't tell everything and the entire package can affect things."
-Varun Shenoy G [
Reviewed @OVERCLOCK.NET
]
The Black Ice® Nemesis® Advanced PC Radiators remains to be the industry benchmark by which performance and quality is gauged.
NEW PRODUCT :: EK-XLC Predator 240 & 360 PRE ORDER
EK has taken top performing, market proven components from its existing Enthusiast product line and assembled them together into one compact pre-filled solution. Absolutely no compromises were made when designing the EK-Predator. Enthusiasts and PC builders alike will truly get the best of what the market can offer in a compact, expandable, out-of-the-box liquid cooling solution.

EK-Predator is pre-filled and pre-assembled CPU liquid cooling unit. It comes in two different versions; 240mm and 360mm and provides extreme cooling performance unseen in the AIO segment so far.

It also uses EK-Vardar high static pressure fans in combination with PWM controls to provide minimal noise footprint, which is a common issue for existing AIO users.

Pre Order:




WCUK Spec :: Introducing our new custom specification cases
About our Cases

These premium case's are professionally assembled here by the WCUK tech team, we pride ourselves on providing the customer with excellent perfoming hardware that we choose to be the best in range and what we would recomended on a daily basis to customers.

All our pre-installed cases are built to order and ship with the coolant filled and ready for you to install you latest hardware. (we can ship them dry on request so you can fill the system yourself once everything is installed).

Only the best quality hose and compression fittings are used in our setups as standard to ensure that a leak free journey from here to you and all the way up until you feel the need to upgrade or move on to better things is gauranteed. All Cases ship with a full 12 Month RTB warranty.

All our cases are leak tested for 24 hours prior to shipment, when the case arrives with you the only thing you need to do is unbox all your new hardware and let the installation begin, we recomend that you run a further leak test before you switch the power on to your Motherboard.

NEW PRODUCT :: Parrot GPS AR.Drone 2.0 - 720p Recording
Just in time for Christmas!


Capture hd photos & videos

Amazing footage streamed and recorded directly to your smartphone using the inbuilt 720p HD camera.

Fly high, fly safe

The cutting edge EPP design of the AR.Drone 2.0 ensures it has a robust structure.

Pilot like a pro

With a single touch to your screen, you can control your AR.Drone 2.0 to take-off, land, hover and flip!

Flight Enhancer

Improvement in stabilization, View your flights in 3D, A new control mode: control by map "Return home" mode. An accessory for developers

"Live streaming on your smartphone"

- 720p - 30FPS - H264 encoding base profile

- Low latency streaming

Parrot BOTS from £90.00 Inc VAT
COMPATIBILITY NOTICE :: Intel® Socket R3 (LGA-2011-3)
We've had quite a few emails recently regarding the new Intel Socket 2011-3 CPU and compatibility with waterblocks and aftermarket air coolers.

It's time to shed some light on the new CPU Socket.

We can confirm that the new 2011-3 CPU Socket is the same thread size around the socket, and the same hole spacing as the original 2011, therfore all products on our site which show compatibility with the original 2011 socket will fully support the latest generation Intel® LGA-2011-3.
SPECIAL OFFER :: EK Water Blocks EK-FB KIT SR-X - Nickel
EK-FB KIT SR-X full-board water block kit is a complete liquid cooling solution for EVGA Classified SR-X (270-SE-W888) motherboard. The water blocks directly cools Intel C606 southbridge (PCH), PLX PEX8784 PCIe lane splitter controller and power regulation (VRM / MOSFETs) module of both CPUs.

Base of the waterblock is made of nickel plated electrolytic copper while the top is made of quality satin finish acrylic material. The sealing is performed by quality rubber gaskets.

Water block is mounted with enclosed M2.5x4 DIN7985 screws and PVC washers. The 2.1mm nickel plated brass screw-in standoffs are already preinstalled and allow for easy installation.



£116.55Save £85.36

Amazing OFFER Now only - £31.19


While stock last!
NEW BRAND :: NZXT are now on board with a HUGE new range!
ROLL UP ROLL UP!



Huge new range of NZXT case's have just arrived, availible for Next Day delivery anywhere in the UK.

Checkout out our great pricing compared to others, we gaurantee we'll be cheaper by a long way.



Our Company


Avant-garde and unconventional - NZXT as created because we aspire to make a positive difference for people. We believe that there are companies that ship product, and then there are companies that ship innovation. We routinely re-invest in ourselves, and hope that we can drive a positive influence in the industry.



Our Products


Think like a beginner - because we grew up in the generation of the 25-cent arcade, the 16-bit home gaming console, and star wars lego collections, the experience is what concerns us. Nothing excites us more than the blank canvas waiting for inspiration. We're always pushing to learn and reinvent ourselves.

MARCH GIVEAWAY :: Winner Announced!
A big congratulations today to our Facebook / Forum competion WINNER Matt Williams who scooped the brand new EK-FC 290X Acetal Waterblock for absolutley FREE.

All Matt had to do was Like our Facebook page, and have a minimum of 5 posts on our forum and post a silly coment in the thread :)

Easy huh ?!

Well that was the idea, keep it easy.. So look out for more Giveaways, APRIL we have something better planned for Easter Weekend (I think some of you can guess) but we'll be back in MAY with another Giveaway - which will be more value than tha last, we can be certain of that.

Stay tuned folks!

Congratulations Matt Williams!

NEW PRODUCT :: Hardware Labs Black Ice Nemesis Radiators
The Black Ice® PC Radiators ushered the dawn of professional PC watercooling over 10 years ago with the Black Ice® Pro and Xtreme series. These were followed by the groundbreaking Black Ice® Gen Two, GTS® and GTX ® PC radiators, providing unprecedented performance for compact form factor heat exchangers.


The Black Ice® NEMESIS® Advanced PC Radiators are a culmination of over a decade's worth of experience in ultra compact heat exchanger design. Black Ice® NEMESIS® radiators feature Supercruise™ optimizations that maximize performance for an even wider range of fan speeds.

Strictly made ​​within the RoHS specifications radiators have, compared to previous series to an improved flow rate, which is attributed to up to 15% more " tubing area" and is likely to make them sought-after performers.

Hardware Labs offer a Limited Lifetime Warranty direct with the manufacturer on all Nemesis products.

Arrived 04/04/2014 - From £29.99
NEW PRODUCT :: Aqua Computer *kryographics* Hawaii R9 290X Acryl
The kryoconnect waterblock series features a delrin connection terminal did Has A Significantly Reduced flow resistance Compared to the previous aquagraFX series.

Combined GPU / RAM / VRM - cooler for graphics cards of the type R9 Radeon 290X and 290 with 4GB RAM accor ding to reference design.

This cool Combines the features of a graphics chip cooler and RAM - coolers in an elegant and very flat watercooler . Additionally the voltage regulators are cooled so effectively.

The kryographics for R9 290X and 290 water block offers outstanding cooling performance and a low flow resistance .

Arrived 24/03/2014 - In Stock Now £88.79
MARCH GIVEAWAY :: EK Water Blocks EK-FC R9-290X - Acetal
EK-FC R9-290X is a high performance full-cover water block for AMD reference design Radeon R9 290X and -290 graphics card. Please check our Cooling Configurator online compatibility system for detailed compatibility list!

This water block directly cools the GPU, RAM as well as VRM (voltage regulation module) as water flows directly over these critical areas thus allowing the graphics card and it's VRM to remain stable under high overclocks. EK-FC R9-290X water block also features a very high flow design therefore it can be easily used in liquid cooling systems using weaker water pumps. The cooling engine now uses refined, 0.6mm wide microchannel structure to even further improve the heat transfer.

March Giveaway, click the button below for details on how to WIN! Worth over £85.00
NEW BRAND :: SuperFlower 80Plus PSU's up to a mega 1500W
Super Flower was in the past years as the tip in the power supply area. Insider recommended the less known brand in Europe because of their extremely high quality Power Supply Units ( PSUs) will not only ensure an exceptionally secure energy supply , but has also very big league in the efficiency values. Was an important role for modders and aesthetes , and is also the often high style factor at the Super Flower.

Very special importance is attached to the outstanding price-performance ratio !

Leadex Platinum series PSU are 80+ Platinum certified with 100% fully modular cable design, our R&D team's latest innovation, a brilliant idea to maximize PSU cables & connectors management to have the best cable routing solution, also increase case chassis air flow to have best cooling for your system.

In Stock Now from £29.99
SPECIAL OFFER :: Phobya Pure Performance Watercooling Kit 360LT
Phobya Pure Performance Kit: The name says what you will get! A maximum of cooling power combined with a cool design for an attractive price is offered in this complete kit, in which everything you need to install a CPU water cooling system is included.

The Phobya Pure Performance Kit unites the favorite Phobya products in a complete kit where all components are chosen best.

Product Manual Here

SPECIAL OFFER

- In Stock Now £141.59


£155.19Save £13.60
SAFETY NOTICE :: XSPC Razor R9 290X VGA Waterblock
Notice Date: Jan 17 2014

Last week we were emailed by a customer who had damaged a R9 R290 card while installing our Razor R9 290X water block. Three small resistors around the highlighted screw below had been damaged during installation.

After investigating this issue we have come to the conclusion that this can only happen if the screw is significantly overtightened. Over tightening the screw will put pressure on the washer and the three resistors and lead to possible damage.

We would emphasise that care should taken when installing all Razor waterblocks and to make sure you do not over tighten any screws.

If you are worried about the possibility of damaging these components you can install the block without this screw - it will not have any effect on the performance. Alternatively you can contact your reseller and request a new replacement screw set, which will reduce the risk of this happening. We will be sending out replacement screw sets to resellers this week as a precaution.

If you have any questions please contact XSPC here...

XSPC Support
NEW PRODUCT :: BitFenix Colossus Micro-ATX LED Case
With the Colossus Big Tower , the top brand BitFenix has drawn attention in Germany as the first and since then lain down a unique triumph .

After the successful debut BitFenix proved its extraordinary innovation and creativity further evidence . The design team of the company turned out to be ( among other things ) as the trendsetter for compact yet spacious Cube chassis , such as the sensationally popular Prodigy - a revolutionary design that no longer way around in the housing market today .

This intelligent design , it is possible to use up to two graphics cards in SLI / Crossfire mode with a maximum length of 320 mm. Thus technical miracles are possible!

Arrived 29/01/2014 - In Stock Now £68.99
NEW PRODUCT :: AquaComputer Double Protect Ultra 5L Container
Aquacomputer is one of the specialists among the manufacturers of high quality water cooling systems and offers an extensive range developed and modified at the same time the products of other manufacturers in order to match perfectly to the requirements in the watercooling sector.

High quality German manufacture, elegant design and high degree of innovation are essential claims .

This prevents the accumulation of liquid metal , and in turn , a thinning of the metal components (copper, aluminum, etc.) in the water circuit .

Arrived 26/01/2014 - In Stock Now £74.99