Phobya WaterCooling UK
Phobya Brand Overview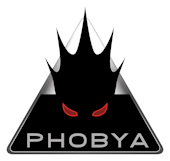 Phobya is your Avatar with maximum skills:
Let the fire battle inflame you, play with your passion and have no fear to get burned.
With Phobya cooling systems and modding products you can experience you passion at the max and achieve your goals.
Phobya gives you the possibility to satisfy your need for victory, to create a PC that can live up to your needs abd guve you
the best performance possible. No matter if the goal is maximum overclocking or sheer power, low temperature or a silent PC or living out your modding skills, Phobya will give you the tools!

The Background behind Phobya:

Phobya is no company in the classical sense but a union of multiple companies, manufacturers, designers and technology owners which develop and product products adhering to uniform and strict quality standards and distribute them.
This concept allows each contributor to Phobya work at their specialized field and present their products in a uniform design and appearance.

Phobya Standards:

> Total Qualty Management
> Extensive pre-series tests with elaborate protocols
> Delivery gaurantee even with high demand
> Total Cost Management for constant pricing even with sluctuating production - and resource costs
> Uniform, proffessional packaging with EAN code
> Multi launguage manuals
> Extended warranty of up to 6 years
> Quick and uncomplicated reclamation processing
> High-resolution product images allow resellers easy and comfortable integration of Phobya products into their shops
Popular Phobya Categories

Checkout our huge Phobya range by clicking on the banner below..